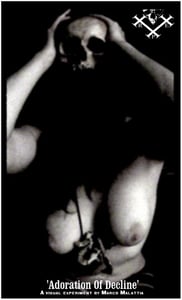 €

10.00 - On Sale
Limited edition of 70 copies handnumbered worldwide, order your copy now!!
ADORATION OF DECLINE
Soundscapes by Rxaxpxe
Visual work by Marco Malattia / Vans>La>Furka Videomalattie
Featuring Helga Retard
Noise/power-electronic paranoias of sound explorer Rxaxpxe meet the iconoclastic, obsessive imaginary of video artist Marco Malattia for a modern sabbath of moral decadence and social denial.
With the charming presence of Helga Retard, queen, nymph and witch in the same time...